Ch. 01 Page 19
April 13th, 2010, 10:00 am
None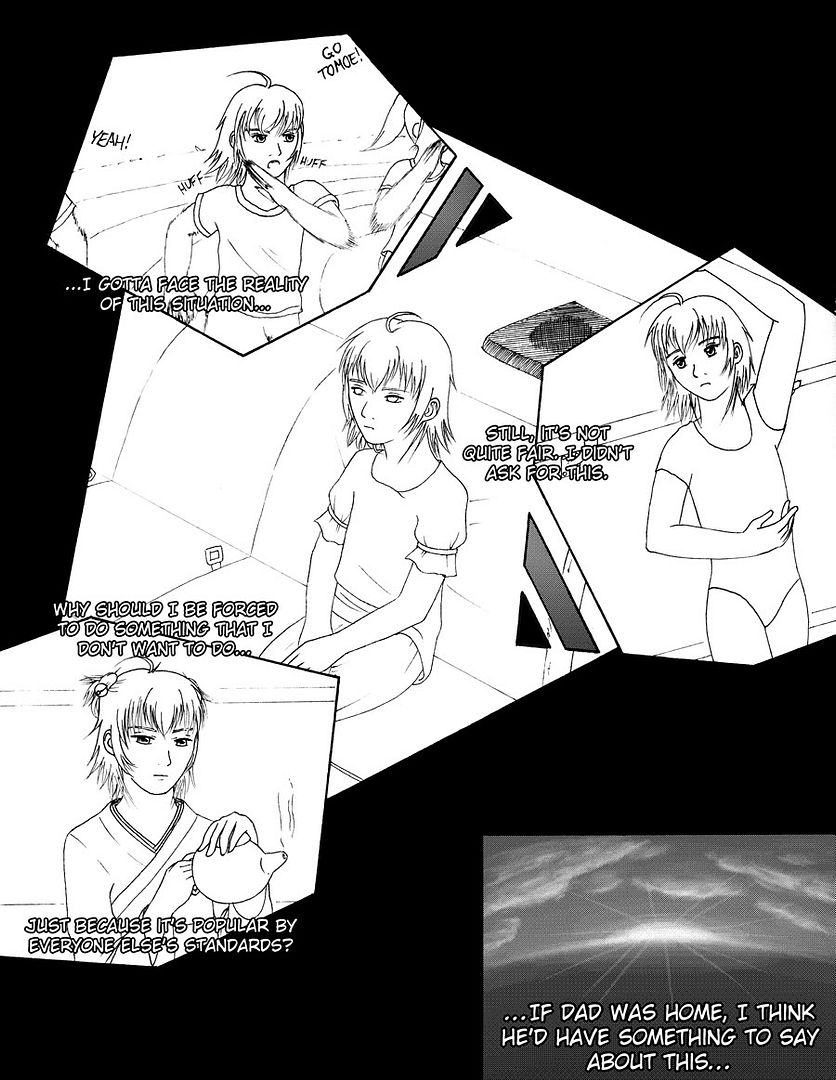 Author's Comments:
Tsk tsk on me for lack of commentingness. Yeah, yeah, I'll be working on doing that. Sorry guys D: By the time you see this, all comments should be added to all pages.

ANYWAYS! Last MM! buffer page. Now I have to draw more CAR and CITYSCAPES if I want to continue. Haha, may be a while. The pages after 21 are gonna be really easy, but it's just getting through 20 and 21 that I'm having an issue with...

Speaking of having issues, I'm having serious issues with Asa's eye in the middle panel. Gotta fix that soon.

I'm headed to NE Regionals down in Rhode Island this upcoming weekend (assuming I can catch a ride with my pal Loser)! I'll be sporting a newly made Glaceon hat. :3 If you're going, come and bug me to do more comic pages! I need a swift kick in the bum to get going again, haha. Oh man, I want to comp. battle so hard though. D: Why must IV breeding be such a long and dull process...?

Enough blather! Onto the page!

As you can see, I opted for a kinda different page setup here. I kinda fudged the last panel because it turned really dark when I converted it to bitmap. :/ I have to redo it lol. And I HAVE TO CONTACT MOMO. I'm not sure what's up, but he still hasn't gotten back to me with the pages. And I can't do another page. I just like ruin em all ;; so sorry for the wait, guys! They'll probably be B&W or a good bit more, but I WILL post something up for you guys to let you know when it is done. :3

Also, 94 fans @ time of posting ASDF @_@ WHEN DID THIS HAPPEN SERIOUSLY WHAAAA! Now I have to come up with that spoiler artwork. Eh he he he! I have pretty epic art cancer going on right now though so IDK how well it'll end up actually looking...

OH! DA people! Please visit hikara-productions.deviantart.com and check out the new ES cover! Fave it to show your support of ES the comic! :D

Yep that's it. Time to get back to the Ditto grinder...
User's Comments:
Caitsith9001, April 13th, 2010, 1:17 pm
Asa's dad is never home? That's sooo sad. I would never do whatever someone else wanted me to do.
winxchan23, April 13th, 2010, 3:39 pm

I like the page setup on this page and the text on the pages are nice and clear making it easy to read. The new cover is awesome I saw it.

Wow, Asa's involved in a *lot* of extracurricular stuff. I wonder how much her mom pressures her into doing...

The Glaceon hat sounds like it'd be cool (pardon the inadvertant pun).

She has a dad?? That was unexpected. It's not illogical or wrong, but unexpected, nonetheless. I thought you would only see her mother in the story.
Is Asa's dad overseas, perhaps?

By the way, I gave you some comments in your thread at Serebiiforums.
Vye Brante, April 21st, 2010, 11:14 pm
Great! I think I've been meaning to read this for a while. Glad I finally did. Great work! Keep it up!
Awesome! This is going great! Keep up the great work! I love Breeze!
You think she'd be more drab in a ballerina outfit, then again this is from her perception so of course it'll be bland.

I love the valiant effort you put into making the pokemon so ALIVE and throwing in elements that would logically exist.
Lockman, June 9th, 2010, 7:02 am
Whoa. I missed 'art' in 'art cancer' the first time reading that sentence. my bad.

Anyway, excellent so far. Fav'd.
em ... i got nothing new to say about the comic... but liked all the same.
Guest, October 17th, 2010, 11:27 am

why dont you ever update
enshogirl, October 18th, 2010, 12:49 pm
Oh man, just read all this! You need to do some updates!

<.<; You're making me want to make a Pokemon webcomic...
Guest, July 2nd, 2013, 9:23 pm

Tild her to come back