Ch. 01 Page 16
March 27th, 2010, 11:00 am
4.00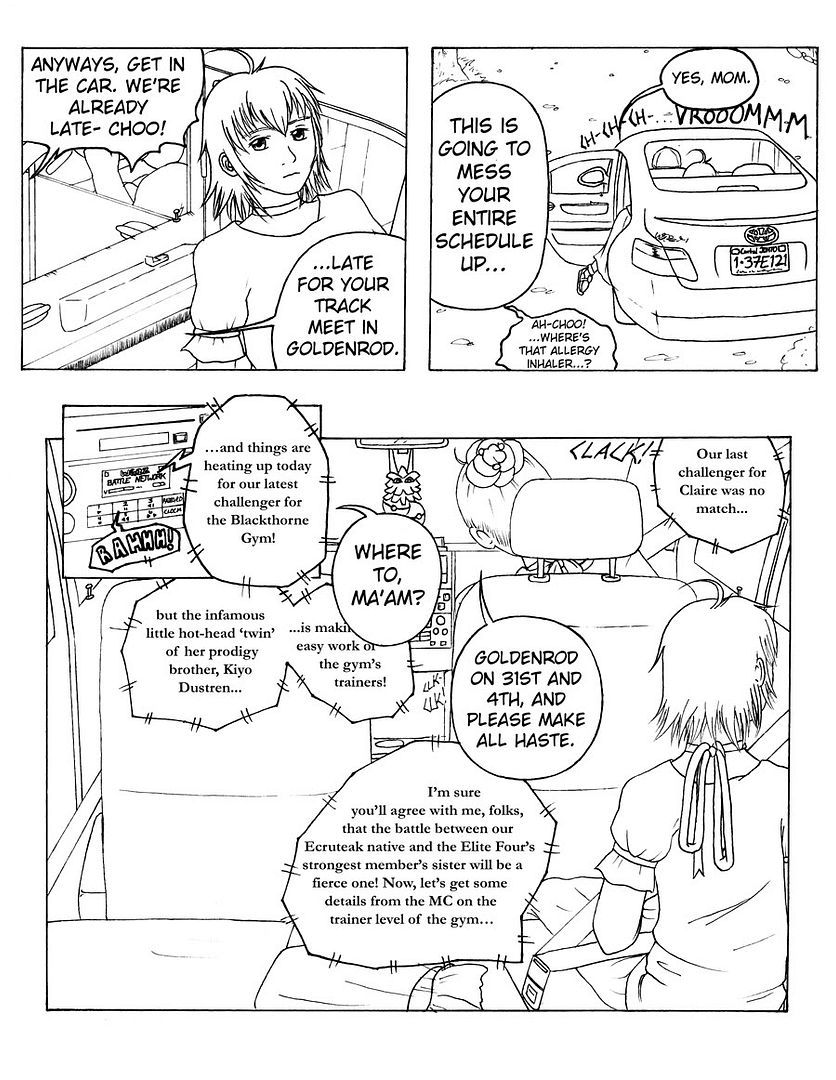 Author's Comments:
Okay I can rant for just a moment. I have a small window of time that I can talk, seeing as I'm like...15 pages behind in MM! and I need to get a good bit done today and tomorrow. So, please wish me luck on this, and keep reading!

I'm seriously thinking of self-publishing Enigmatic Star for AAC for October. I'd expect this special edition of 'volume 1' to be somewhere about 100 pages in length, in full color at 8"x10" format. (That's actually the format I do each page in.) I...it's really been my dream to get something published, yet at the same time I think-no, I know- I'm scared to death of what people would say about it. I dunno! Putting your work out there is scary. D: But I'm just curious, how many people -would- be interested in getting a copy? Because the BW version (with screens, mind you) would only be going up here. Nowhere else would you be able to get a color version of Enigmatic Star for free reads, and I doubt 100 pages would be available to the public to read by October on the update schedule I decided (It's Tuesday and Saturday, if you haven't noticed already). To put that update schedule into perspective, Chapter 1 should be all available to view at the end of July. If Chapter 2 is of a similar length, it'd be until December before all the pages were out. Just some estimated numbers to think about.

There's only one really big hill that stands in my way; Nintendo. I know that everyone and their mom (or most everyone) sells fanart at cons and stuff, but I still want to make sure I can get their permission to use their characters and the like for self-publishing. Given how I'd be making...not even drops in a lake's worth of profit, I don't see why I wouldn't be able to do it, and I've heard a tale of another PMD comic somewhere where the artist got permission to make a few copies of her comic, so...I dunno. It's something I have to look into, and look into deeply so I don't get shut down.

Anyways, an AWESOME cameo page here. :3 I know some of you are all like 'so what does that other chick do again?', so I'll say it here. Kiyo (BKD_Dustren) is the literal co-author of this story. She helps me with my script, gives me ideas, and I'm, ahem, BORROWING a lot of her ideas for the comic, including a slew of her original characters and Pokemon characters. Yeaaaah. I have bad habits of doing that apparently. ;D Regardless, her main OC fo' eva', Kiyo Dustren, makes a tiny cameo here! Yaaaaay CLAP DAMMIT. The few readers of old RQO know that Kiyo has long since had the 16 badges of the Tohjo region, so this puts an estimated timeline for the story (even though RQO and ES are completely separate stories (and abuse many of the same characters).). It's like 4-ish years before HGSS. (Even then, HGSS is unrelated to the two stories.) Soooo yep. 4 years before all the Rocket junk, back when even Team Neo was kinda disbanding.

Uh, yeah, don't mind the rambling.

...CARS. I HATE DRAWING CARS.

Also note that that car is a Hoyota, not a Toyota. :3 If I do publish this I will make sure that it doesn't look so much like a Camry and I'll change the name to Arcmy. ;D Like an Accord and a Camry, except not!

I'm tired, I have pages to do. I should stop walling now. X3

I'll comment back later! So sorry for all the late replies as of late! AND WOW 85 OF YOU! Seriously, thank you so much. I plan to spoil you guys rotten when or if I reach 100 fans. :D Your support for Enigmatic Star really is awesome!
User's Comments:
the being, March 27th, 2010, 12:38 pm

I'd buy a copy.... if I had money xD Though you said it wouldn't be for a long time. it's really up to you, but I think it would be cool.

And....in the first panel..

"Anyways, get in the car."
I dunno. Just doesn't seem like what her mom would say. I dunno.
(The 'anyways' part I mean)

I'd say that car looks pretty good for something that you really hate drawing. It's weird how stuff like that works out sometimes.

It'd be cool to have a paper copy of Enigmatic Star out there! I don't know that I would buy it, since I'd always be able to read stuff on here... The pretty colors would be a good incentive, though!
Paylos, March 27th, 2010, 4:17 pm
I have to say the same as these two!! I would love a copy and the car looke awsomelly epic!;)
Kyuutsunebi, March 30th, 2010, 1:59 pm
You draw cars very well though=D

EDIT: OMG KIYO YAYYYYYYYY