Ch. 01 Page 12
March 13th, 2010, 11:00 am
None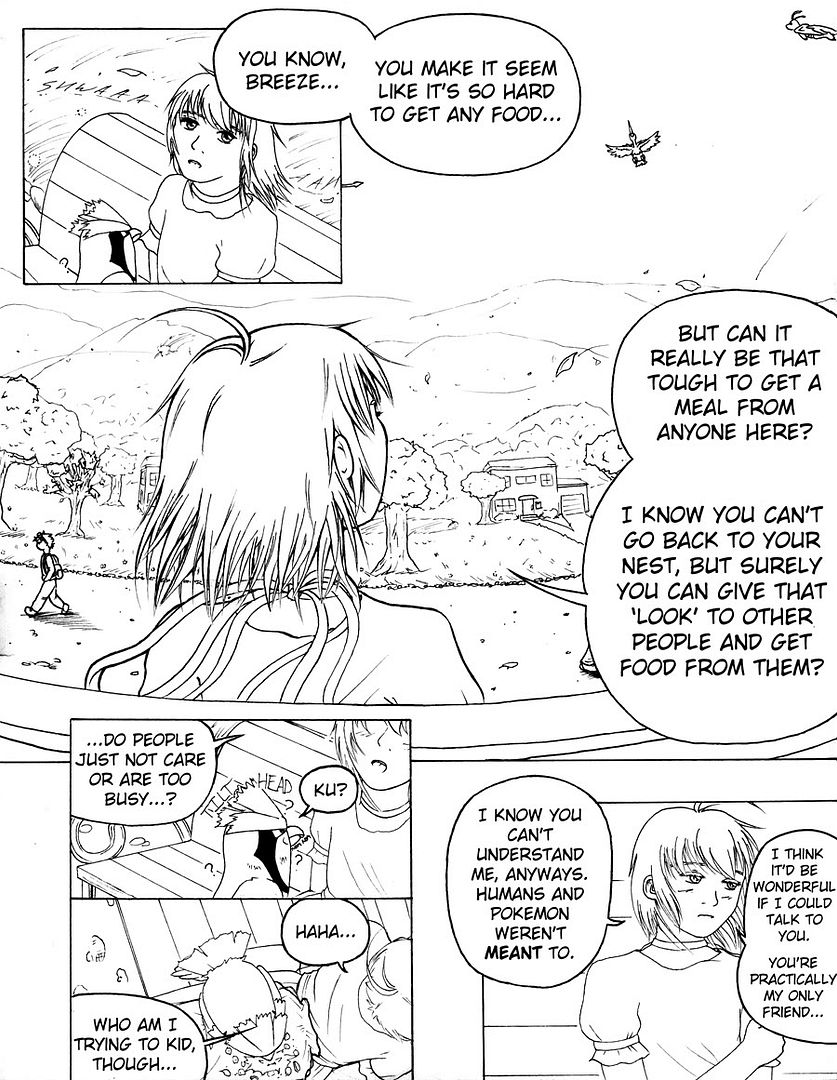 Author's Comments:
UGH SORRY Sorry I haven't been responding to comments. I've been busy with...HeartGold. Like massive amounts. D: I'll get back to you all soon I swear it!

As for this page, I'll copy/pasta my rants about perspectives later. There's a lot and I'm not typing it all out again lolz.

Replies:

Spudwalt: Yeeaaaay updates indeed <3 Hahaha.
And yeah, Asa means 'hold a conversation with' her. ;D The way I see it, Pokemon can only really understand emotions from humans, and vise-versa. So they aren't really talking the same language. If they were...well, I wonder if the two would be such good friends. ;D
I hope so! I'm putting my...ahem, heart and soul into this comic. D: Why is it again you don't have a SJ account? You can have one just to keep a more tidy track of all your favorite comics even if you don't have any comics of your own!

Mr. Zoet: I wonder what people will think of Breeze in the next few chapters, if she'll be so 'cute' then. ;D Hahaha...

uqueen: Hee, thanks. I was going for psuedo-dramatic. ;D So hopefully it worked!
User's Comments:
Yay, updates!

Um, you're already talking to Breeze, Asa... Unless by "talk" you meant "hold a conversation", which *is* kinda hard to do when one of you essentially has a one-word vocabulary.

I'm positive you'll reach 100 fans, Crystal. After all, you've got 78-ish official ones already; more if you count people like me who don't have a SmackJeeves account and therefore haven't faved this comic or anything.
MR.Zoet, March 14th, 2010, 8:30 am
Awww,
Breeze is soooo cute!
u_queen, March 14th, 2010, 9:22 pm
The wind effect you added in the page looks pretty.
That's always been a game-play/story contradiction the size of the entire game universe.

Pokemon aren't supposed to understand humans or vice versa..... but pokemon understand attack commands?!?!
That's always been a gameplay/story contradiction the size of the game universe. Pokemon and humans aren't supposed to be able to speak to each other.... but can understand attack commands?!?!